Frequently Asked Questions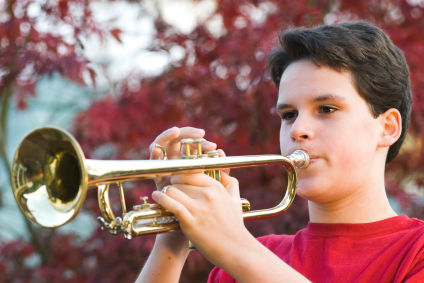 Which instrument could my child play? (when they don't like the teacher's recommendation)
Throughout my 30+ years as a band director and industry professional, I know most children can adapt to about any instrument with honest effort. That being said, there are exceptions due to physical characteristics which may limit choices. Make every effort to have an experienced music teacher help you with selecting which instrument will be best for your child. If there has been an instrument try-out procedure and your child is disappointed with the choices assigned to them, by all means discuss this with the teacher as this is absolutely something they need to be aware of. Music teachers are striving to maintain a balanced instrumentation--you can't have a good band with 30 alto sax players and 20 drummers! However, teachers have some flexibility and will want your child to be both happy and motivated about their choice of which instrument to play.



What is the 50% early purchase option?
If you so choose, at anytime during your rental agreement, you may purchase your instrument early and save 50% off the remaining balance. Provided that all payments required by the Agreement are current and the Agreement has not been terminated by default. The payoff amount will be calculated as the sum of the total amount of rental payments remaining to complete the ownership requirements of the Agreement, less 50%.



What's the price if we just buy the instrument outright?
Prior to making a decision to buy outright there are several points to consider about the advantages of renting first: (1) renting allows you and your child to determine if this is an activity the child will pursue long term (2) renting allows you to easily switch to another instrument if necessary and (3) repairs and maintenance are covered while you are on the rental agreement. Best of all, if everything is going well, RMI allows you to pay off your rental agreement balance early and save 50% of the remaining balance at anytime. It clearly makes sense to give it a try before you buy and keep all your options open. And, we're pretty confident you will not find an early payoff discount more generous than RMI's anywhere.



How long will it take to process my on-line rental?
Rentals are processed and shipped the same day or next business day (we just need to verify your identity and billing information). Once all information is confirmed, your instrument will ship immediately via UPS.



Is the rental instrument going to be new?
Our instruments are new or like new and inspected by our service experts prior to shipping.



Will the instrument be suitable for our school's instrumental program?
Our selection of instruments include the major name brands and models professional music educators know and trust.



What comes with the instrument?
Every instrument rental includes a carrying/storage case and mouthpiece. Music books, stands and care kits may be added to your order. If your specific school information is not listed on our website, please consult with your local music teacher to find out what music book and supplies you will need.



Is there a minimum contract length?
There is no minimum rental period. You may terminate the rental agreement at any time by returning the instrument or complete all payments and take ownership of the instrument.



Do you offer any type of protection plan?
Our Instrument Maintenance & Repair Plan costs just $5 per month ($8 for saxophones and cellos) and protects your child's instrument against accidental damage or destruction. Intentional damage is not covered. Cosmetic damage which does not affect the instrument's playability is not covered.



Tell me what happens with damage or repairs.
Please do not attempt to repair instruments on your own as you could cause serious additional damage.....repairs arising from normal usage of the instruments is covered, but intentional damage is not. At the bottom of the RMI homepage is a Repair Authorization tab, simply click on it, fill out the Repair Authorization Form and send it back to us. We'll send you a Repair Authorization number and a printable UPS shipping label to ship the instrument back to us for repair. There are no shipping or repair charges when you utilize our Repair and Maintenance Coverage.



What happens if my child decides to quit?
Most importantly, never allow a child to quit before speaking with your music teacher. Your child may be harboring an issue which is making them uncomfortable and is very easy to resolve. Be sure to inquire if your child might be better suited to a differenct instrument - your RMI rental agreement does have an exchange option. If, after talking with the music teacher, you determine it is best for your child to not continue, simply go to the RMI homepage and click on the Instrument Return tab at the bottom of the page. There is a very short form for you to complete to receive a return authorization. If your account is current, once you have returned the instrument to RMI, there is no further obligation.



What happens if my child needs to switch to a different instrument?
This is not uncommon, but don't wait too long before considering this option. Beginner students are learning a lot of very basic but very critical information specific to each instrument about how to put together and take apart instruments, how to position their body, hands, fingers, mouth and tongue, plus the unique fingerings that go with each instrument and each note. Switching means a lot of this basic but critical information will have to be re-learned on a different instrument--switching means, for a time, your child will basically be starting all over again. Be sure to talk to your music teacher when considering this option.



What other things will we need besides the instrument?
Most school music programs require you to purchase the band or orchestra method book used in the classroom. Many teachers like each student to have the care kit for their instrument and a folding music stand for home practice. It is not uncommon for young students playing reed instruments (clarinets and saxophones) to need extra reeds until they learn to care for them. All these items are available on the RMI website and can be included with your instrument rental. Contact your teacher for specific information and program requirements if your school is not registered on our website.



Do you provide any free lessons?
Since we do business online, RMI does not make provision for free music lessons. However, many of our affiliate music store locations do have lesson programs and there is no better way to get a child off to a great start than private or small group lessons to reinforce and nurture what they are learning in beginning classes at school. Be sure to ask private teachers if they will take more than one beginner student at a time--using the buddy system may save you a little money and young students often prefer to have a friend or two learn with them.



Does it come with a free music stand?
RMI does not provide a free music stand with our rentals. We do, however, offer a very high quality folding music stand with a carrying case at a nominal price. Music outlets that do provide a free music stand usually require that you return it or pay for it if your child decides not to continue.